Configuration Item Register
Project Assistant's CI Register will make controlling configuration items and their revisions a much more simple process, bringing status accounting to the forefront.
Configuration Management
Control Configuration Items and Revisions .
Electronic Configuration Management has become a requirement for most modern software projects, particularly on projects that have high quality assurance requirements such as BS EN 50128 / 60158
By accepting links from other activities such as the Defects Manager, technical Query Manager and Change Request Manager, the CI register can display at a glance what issues have been raised and what the current status is. This unique feature offers a vital new level of traceability for each registered item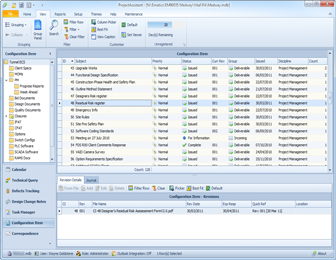 Feature List
Register Configuration Items to a central database.
Create / Track Configuration Item Revisions.
Create User configurable status and workflow information.
Add / Edit and Delete CI revisions while main CI still visible.
Import / Create new CI's from file on drive or scan entire folders.
At a glance revision history.
See all issues raised and get current status of each.
Be sure there is nothing outstanding.
Change traceability.
Export your data to PDF or Excel files.
Screen Shots
Download your 30-day Trial Today.
What are you waiting for?