Project Assistant - Timesheet
Project timesheet's advanced grouping and summary capabilities make all your the project hours spend information instantly available.
Need a demonstration ?
Contact us at support@qstar2k.com
Timesheet
Control of all of your people, Time and Hours Spend.
Project Timesheet is a professional employee time and task tracking management application that is capable of bringing accurate project spend information to your fingertips.
project Assistants timesheet capabilities puts you in complete control of all of your people, projects, time and hours spend, making information visible, available and accessible in real time to all authorised project team / organisation members.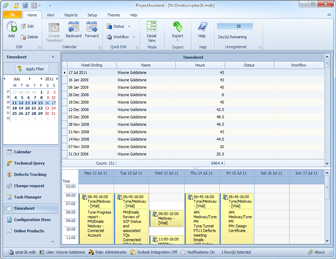 The timesheet also contains a calendar preview window which. will automatically be re-indexed on selecting a timesheet. The calendar preview will then display any calendar entries for that week.
Feature List
Create timesheets by entering hours worked against activities.
Helpful, intuitive and easy to complete timesheet template.
"Task Picker" select items from Task or CI Register.
Export your data to PDF or Excel files.
Record activity progress on a weekly basis.
Create a printed Timesheet with your company logo.
The "Detail View" allows you to create instant sub totals of hours based on any of the timesheet fields.
Screen Shots
Download your 30-day Trial Today.
What are you waiting for?