Project Calendar
Integrated Scheduler for reminders and events
Organise your daily and business activities with this professional scheduler by project using the available Day, Week or Month "VIEWS" and date navigator. Create and maintain appointments with ease and automatically create reminders for your submissions, TQ's and Defects.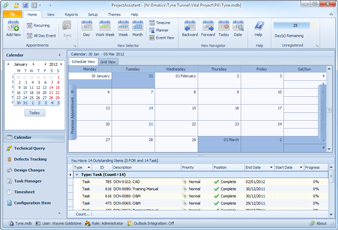 Main Features

Popup Reminders
Project calendar's Pop-Up reminders make it virtually impossible to miss an appointment. Now everyone in your office can view and share schedule information.

Import/Export with Outlook
Export your PA events directly to MS Outlook either automatically or when ever you decide.

Issue Register Integration
Calendar events can be automatically generated from any of the issue management registers and then displayed on the calendar for all user to see.

Link Events to Projects
Assign your events to any of your defined projects using the drop down box. These event can then be added to your timesheet automatically
Screen Shots
Download your 30-day Trial Today.
What are you waiting for?