Project Assistant, TQ Manager
You can define and assign your custom status information to each query for easier tracking.
Technical Query Register
Create, track and manage all of your client queries.
During the execution of many of your projects, you will at some time have a need for further clarifications and client response to your questions and "What If" scenarios. Tracking these questions and subsequent responses can be a difficult task.
Project Assistant's Technical query manager will allow you and your team members to create, track, and confirm all of your queries and subsequent client responses.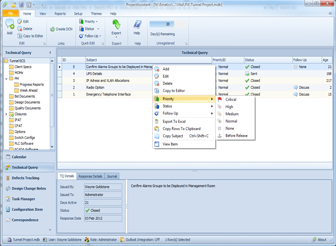 Feature List
Create a central TQ database shared by all project members.
Track each TQ for client response and current status.
Create Reports/Charts of TQ status with a single mouse click.
Change the status of the TQ at any time with a single mouse click.
Create popup reminders if a TQ has not been responded to.
Create advanced filters with no SQL experience at all.
Filter data using excel-like auto filter menus.
Quick reports converts display to hard copy instantly.
User configurable Status groups and status images.
Spell as you type spell.
Screen Shots
Download your 30-day Trial Today.
What are you waiting for?