msgManager
New Tyne Tunnel
msgManager was used as the email register for the New Tyne Tunnel Crossing SCADA system project and registered over 4,500 emails.
msgManager
Take Control of Project Emails
msgManager, is an add-in for Microsoft Outlook 2007 / 2010 that allows you to create external email registers on a project by project basis and then from within outlook enables you to assign incoming or outgoing emails to that project. msgManager will then register the email to that project, assign a unique reference number and then inject this reference number in to the email before saving as a .msg file on your server or hard drive.
Packed with many time saving features, msgManager improves your productivity by extending the functionality of MS outlook and provides better traceability for your project email.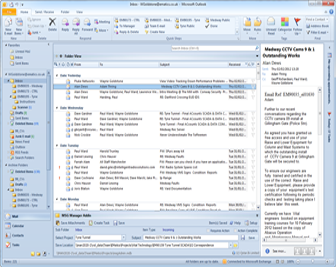 Feature List
Inject a project reference in to your emails.
Emails automatically added to project register.
Sent emails are intercepted and assigned to a project.
Fully user configurable.
View project Register within Outlook.
Integrates with project Assistant 5.
Save Attachments with single mouse click.
Save emails in .msg format.
Screen Shots
Download your 30-day Trial Today.
What are you waiting for?