Version Watcher
Automatically Monitor and Backup Text Files.
Version Watcher is a utility that monitors all files in a selected folder for change and when a change is detected, the file is copied to the backup folder with a new file extension that will indicate the version number. The number of version it will keep is selectable and when this limit is reached, the version number is incremented and the oldest version is then deleted so that the number of backups does not exceed the selected count
Version Watcher runs from the system tray and will monitor your selected folder for file changes. Once a file change is detected, Version Watcher will check to see if the file is being monitored and if so, will create an incremental copy of the file in your selected backup folder up to the configured number of copies, after which the oldest file will be deleted and the latest file added.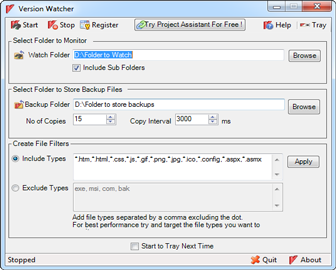 Feature List
Small lightweight utility.
Runs in the system tray.
Changed files are added to a change queue.
Files are copied in background.
Configure the number of file copies to keep
Select the file types to included in the monitor.
Or Select the file types to exclude from the monitor.
Get status information from the system tray.
Screen Shots
Download your Free Copy Today.
Version Watcher is Freeware but will require a free license after 30 days